Description:
fully automatic granule particle food rice packing V.F.F.S. Bagger Complete Systems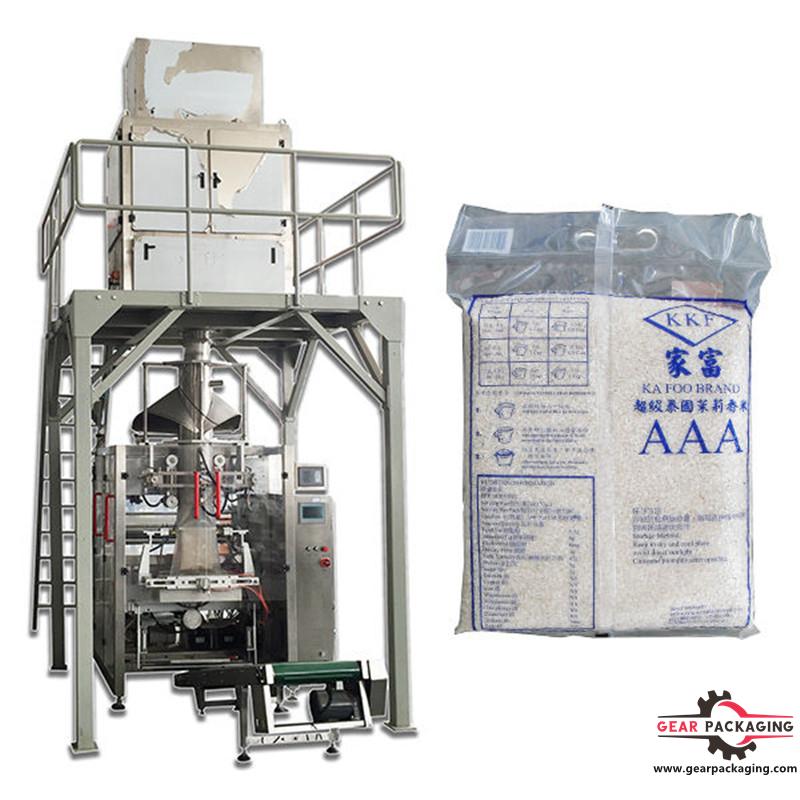 Applications
---
It is suitable for weighing grain, stick, slice, globose, irregular shape products such as candy, chocolate, jelly, pasta, melon seeds, roasted seeds, peanuts, pistachios, almonds, cashews, nuts, coffee bean, chips ,raisins, plum, cereals and other leisure foods, pet food, puffed food, vegetable, dehydrated vegetables ,fruits, sea food, frozen food, small hardware, etc
Features
---
Full automation from bag making, measuring, filling, sealing, counting and date printing.
Computer control and English-Chinese touch screen for easy operation without stopping the unit.
Intelligent PID temperature controller for easy adjustment and good application to various laminated film and paper.
Packaging diversification, such as back-seal bag, side gusseted bag, linked bag, hole punched bag etc.
Multi-heads weigher filling system for filling accuracy and good application to various kinds of products.
Weighing accuracy 0.4 to 1.0 gram.
Optional Device
---
Filling nitrogen device, gusseted device, punching jaws, chain bags device, PE fillm device,venting device.
Technical Specifications
---
Type

GP-FP420(upgrade)

GP-FP520

(upgrade)

GP-FP

720(upgrade)

Film Width

Max.420mm
Max.520mm
Max.720mm

Bag Lenth

80-300mm
80-350mm
180-350mm

Bag Width

60-200mm
100-250mm
100-500mm

Film Roll diameter

Max.320mm
Max.320mm
Max.320mm

Packaging Rate

5-60bags/min
5-60bags/min
5-55bags/min

Measurement Range

150-1500ml
2000ml
4000ml

Film Thickness

0.04-0.08mm
0.04-0.12mm
0.04-0.12mm

Power

220V 50/60Hz 2KW
220V 50/60Hz 3KW
220V/3KW

Machine Size

(L)1217*(W)1015*(H)1343mm
(L)1488*(W)1080*(H)1490mm
(L)1780*(W)1350*(H)2050mm

Machine Quality

About 650KG
About 680KG
About 750KG

Optional device

Date coder, Hole punching device (Pinhole,Round hole, The butterfly hole), Linking bag control device, Air-filling device, Air exhaust device. Tear notch device, Nitrogen inflation device, Gusset bag