Multi conveyor:Horizontal Bucket Conveyor Designed for Bakery Application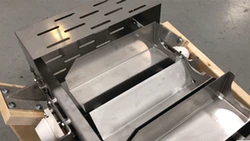 Alternating back-to-back buckets are horizontal and rotated 45-deg. The back-to-back design was specified based on how the loaves were being both loaded and unloaded.
Dual strand stainless steel roller chain designs may have pre-tensioned linkage with attachments needed for the customized buckets. This design required every-other-bucket 45 deg rotation.
Another unique customer request were square cutouts in lower end of the buckets for customer-supplied photo eyes to detect product inside the buckets. Sanitary requirements were stainless steel, continuous and cleaned welded design .
Heavy duty brackets were added to mount inside the customer's bread making machine providing additional stability and alleviating any flex in the conveyor itself. In general, the customer requested a "beefy design" for longevity, bucket placement and timing, simplistic bucket cleaning by removal and replacement of buckets, and overall maintenance purposes.