Description:
Single head piston filler liquid desktop filling machine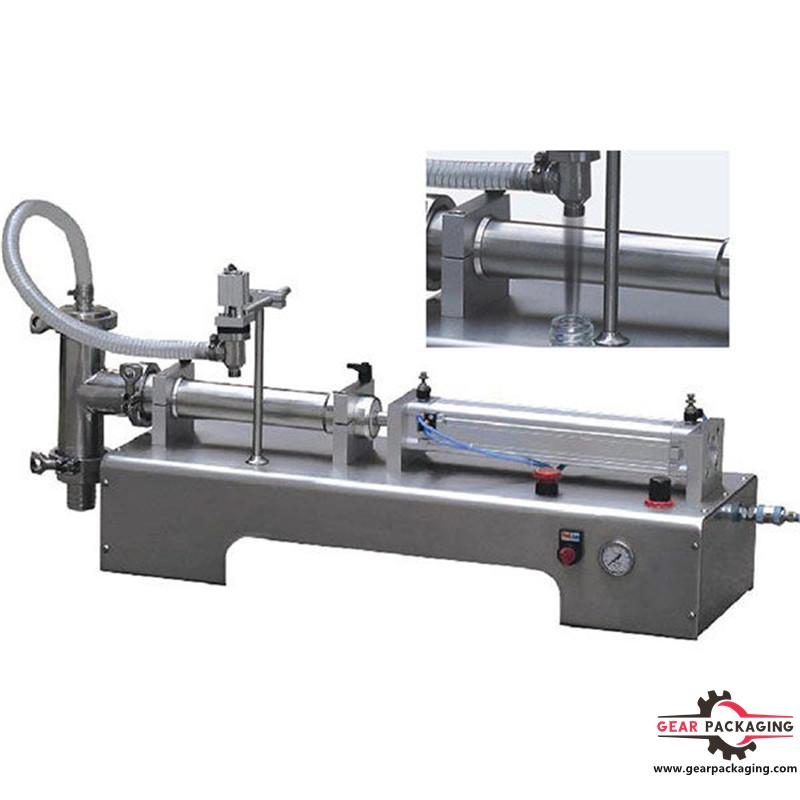 Applications
---
Horizontal single head piston filler for free flowing liquid,such as mineral water, edible oil, juice, ink, detergent, perfume etc.
Features
---
Standard with Airtac Piston.
All piston filler made from S/S 304 grade stainless steel and aluminum conforms to GMP.
Viscous Liquid Model with stainless steel product hopper
Operated by foot pedal switcher or by automatic timer.
With Anti-leaking system
Product suction and dispensing speed adjustable.
No-Tools for set-up and adjustment.
Sanitary tri-clamp connections easy wash
Quick release nozzle and feed pipe
Small footprint for simple bench mounting
Be able to be equipped with other automatic packaging machine
Most commonly applicable for pharmaceutics, daily chemicals, foodstuffs, cosmetics, pesticides and other industries.
Option
---
Festo Piston
Food and pharmaceutical S/S 316 grade stainless steel contact parts.
Standard with electric solenoid control, we have pneumatic solenoid valve to work without electric option at full Pneumatic Driven
Characteristics
---
1. Import single-chip microcomputer control, high efficiency, low power consumption
2. Automatic counting function, effectively control filling quantiy
3. LCD display, touch screen is very easy to operate
4. High filing accuracy
5. Wide Voltage range
6. Working performance is stable and can be used for long time
7. This can self-suck the liquid.
8. The pump can stand acid and alkali
9. Anti-dripping design.
10. Reasonable design, made of stainless steel, meet GMP requirement
Technical Data

---
Air Consumption: 0.6CBM/H
Air Supply Pressure: 0.4-0.6Mpa
Operation Efficiency: 10-20 bottles per min (depends on product and container size)
Filling Precision: ≦±1%
Dimension & Weight: Variable, depending on the application